Warehouse TERRADA Holds TERRADA ART AWARD 2021 in Support of Up-and-Coming Artists
"You ARE the Precedent": Discovering New Talent by Judges Who Guide the Contemporary Art World
Warehouse TERRADA will be holding the TERRADA ART AWARD 2021, recognizing talented creators of contemporary art, as part of its business efforts to promote art and culture.
Mainly focusing on the storage of art works, we have been developing a wide range of art-related businesses including artwork restoration, packaging, transportation, and exhibitions to pass on the passion of artists and the intrinsic value of art to future generations. Also, through the operation of our exhibition spaces, we are not only providing opportunities for the main stakeholders of contemporary art such as the artists, collectors and galleries, but also opening up contemporary artworks to a broader fan base and supporting to revitalize the market for art in Japan.
The intention of TERRADA ART AWARD 2021 is to support up-and-coming artists. Warehouse TERRADA will be accepting application materials, including portfolios, via online forms from December 11th, 2020 (Fri) through February 26th, 2021 (Fri). To discover talent that can make its presence throughout the art scenes around the world, we invited judges who have made their talents recognized on a global stage, and have a comprehensive understanding of contemporary art. Five groups of finalists will receive awards from the judges after the final selection, and their works will be on display at the TERRADA ART AWARD 2021 Finalists Exhibition held between December 10th, 2021 (Fri) through December 23rd, 2021 (Thu) at the Warehouse TERRADA event space. Following renovations to the Warehouse, the exhibition space is now 660㎡ in size. The unadorned nature of the space will bring out the essence of any work of art, and help capture the world view and talent of each artist. Furthermore, visitors will be allowed to cast votes for their favorite pieces during the event, and one artist/group will receive the Audience's Choice Award. Works of art have transcended generations and survived countless wars and disasters to earn their fame, but they would not be what they are without their patrons. Through these Awards, we seek to discover the only handful of talent that can be found in every generation, and help grow the winners' careers by offering them our full support, until they can stand stalwart in the world as artists in their own right, and pass on the value of Japanese contemporary art to future generations.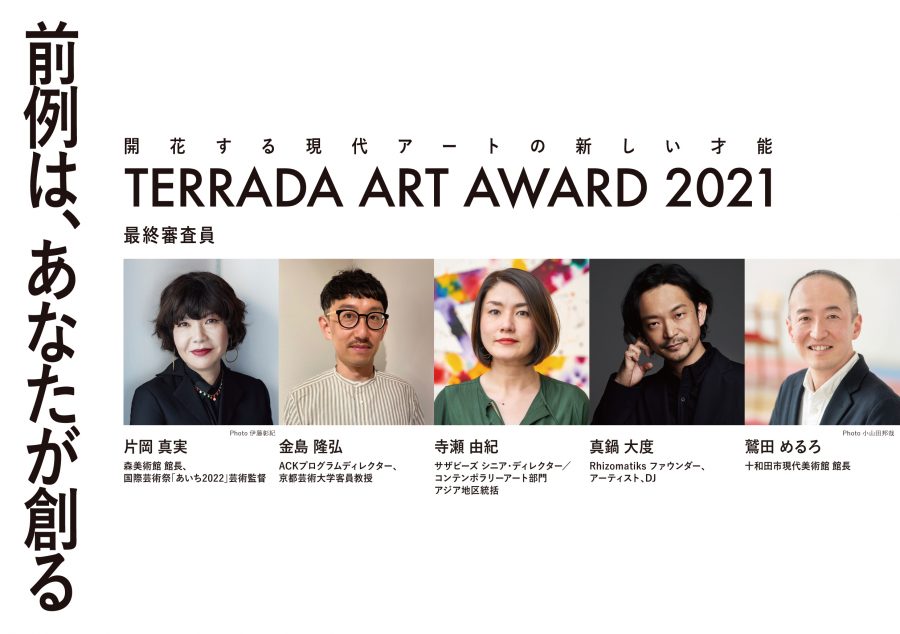 Name: TERRADA ART AWARD 2021
Application period: December 11th, 2020 (Fri) through February 26th, 2021 (Fri)
Application conditions: Anyone who satisfies all of the following conditions:
1. Artists who have at least one but no more than 10 years displaying their work at exhibits
2. There are no limitations based on nationality, but artists must be able to communicate in Japanese
3. Artists who can participate in and help set up the finalists' exhibition starting December 2021, and can participate in the awards ceremony
Art works criteria: All contemporary artworks encompassing all media, including, but not limited to: paintings, 2D art, three-dimensional art such as sculptures, physical expressions such as installations, images, photos, and performances, as well as sounds, and music
Application method: Online applications (https://www.terradaartaward.com/apply)
Awards details: 3 million yen awarded to five groups of finalists
1 million yen awarded to one group receiving the Audience's Choice Award (selected from the five groups of finalists)
*Includes fees paid to display the works of finalists at the Finalists Exhibition, as well as fees for creating and displaying new works
URL: https://www.terradaartaward.com
Held by: Warehouse TERRADA
Sponsored by: Japan Airlines
With the support of: Andaz Tokyo and Grand Hyatt Tokyo
[Finalists Exhibition Overview]
Five groups of finalists will display their works, including new works for the Exhibition, in a large 660㎡ warehouse space with a ceiling height of 4.5 meters; an unadorned space that will bring out the essence of any work of art, and help capture the world view and talent of each artist.
Event Period: December 10th, 2021 (Fri) through December 23rd, 2021 (Thu)
Finalists Exhibit Venue: Warehouse TERRADA, G3-6F
Admission Fee: Free

[About Primary Selection Judges]
–  Shihoko Iida (Curator)
– Ogawa Nozomu (Art Center Ongoing Representative)
– Mizuki Takahashi (Executive Director and Chief Curator of CHAT, Center for Heritage, Arts and Textile)
– Ryutaro Takahashi (Psychiatrist, Chairman of the Kokoronokai Medical Corporation, contemporary art collector)
– Contemporary Art Team [mé] (Artist: Haruka Koujin, Director: Kenji Minamikawa, Installer: Hirofumi Masui)
– Tsukasa Mori (Business Adjustment Section Chief of the Arts Council Tokyo Business Advancement Office, Tokyo Metropolitan Foundation for History and Culture)
– Kensuke Yamamoto (Founder & CEO of Sumally)
– Mami Kataoka (Director of the Mori Art Museum, artistic director of the Aichi 2022 International Art Festival)
– Takahiro Kanashima (ACK Program Director, Visiting Professor at the Kyoto University of Art and Design)
– Yuki Terase (Senior Director at Sotheby's, Head of the Contemporary Art Division, Asia Region)
– Daito Manabe (Founder of Rhizomatiks, artist, DJ)
– Meruro Washida (Director of the Towada Art Center)