TERRA SIGHT & TERRA SIGHT MARKET
Terra sight is a content management system for video, music, and images. Original files are stored securely offline. On our web system, proxies are available for full-length previews and at your discretion can be made searchable via appropriate metadata.
Features of Terra sight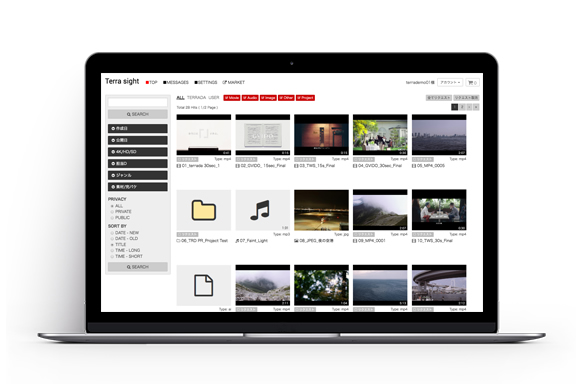 Features of Terra sight
– Full preview available online via proxies
– Searchable by arbitrary metadata
– Flexible search term settings
– Select from a variety of user privilege settings
– Unified management of audio files, image files, and project folders available
Terra sight MARKET enables users to sell their content saved on Terra sight.
Sellers only need to choose the content for sale and set a price.
Since Warehouse TERRADA handles the delivery of the original data and payment process, any contracts associated with individual sale and purchase are unnecessary, which greatly simplifies contents sales procedures.
♦Features of Terra sight MARKET
– Searchable by category, length, price, and other terms of video
– No need for contracts for individual sale and purchase
– No need for file copying
– Billing service, payment confirmation, and payment processing are all managed by Warehouse TERRADA
Warehouse TERRADA is dedicated to users' content maintenance and maximizing their utilization.
* Terra sight MARKET has a business method patent for the simplification of the program exchange method for sale and purchase
Patent Number: 6457679