Establishing MAGUS Co.
-Building a platform for Japan's art scene-
On March 8th, 2021, Warehouse TERRADA, Mitsubishi Estate Co., Ltd., TSI HOLDINGS CO., LTD. and Tokyu Co., Ltd. formed a consortium to establish MAGUS Co. (Shinagawa-ku, Tokyo; Representative: Makoto Uesaka). We aim to connect people and companies through art-related media to serve as a platform provider specializing in information about contemporary art in Japan.The first part of our business plan is to offer businesses consulting and online and offline seminars that utilizes art for business. We then plan to commence providing news regarding art around the world to both companies and individuals.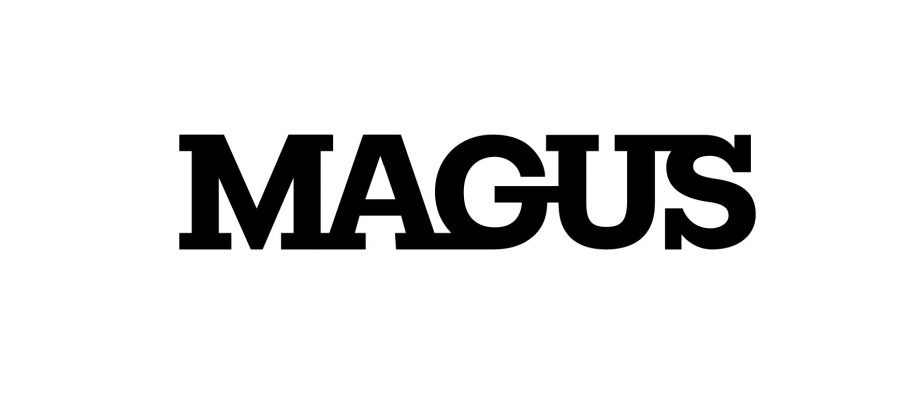 In Japan, "art" is becoming a modern buzzword, and according to the Art Basel and UBS Global Art Market Report, an important index for the global art community, the size of the Japanese art market is still small — while Japan's economy is among the largest in the world, its art market fails to escape the category of "Rest of World" (*).
The Japanese art market is expected to grow in the future, and providing information regarding art will be essential for its sound development. In countries with large art markets, art is not just for the wealthy, but a part of everyday life. Besides companies and individuals actively supporting artists and purchasing their art, companies are also using art for branding and communication purposes.
Going forward, MAGUS aims to create a new community and a new art economy by serving as a platform provider for the arts scene. By connecting Japan to the world and buyers to creators, we hope to create a society where we generate dialogue around societal issues through art, where buying artwork becomes common practice, and where companies can show their attributes through art-related endeavors and contribute to a change in society.
* Reference: The Art Basel and UBS Global Art Market Report, UBS Global, 2020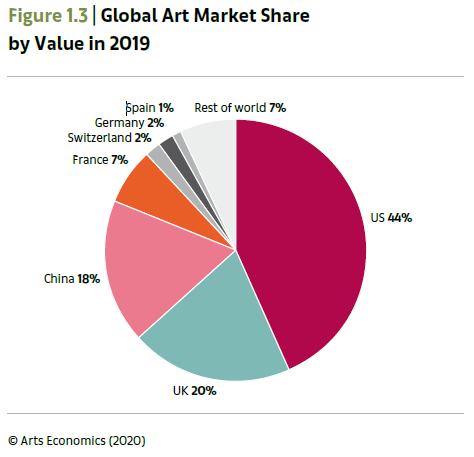 Philosophy of the New Company
Vision: With the power of Art, making Japan a beautiful  place
Mission: Enrich people's lives by communicating the joy of seeing and interpreting art, and thinking about culture
Business content of New Company
For Corporate: business proposals, implementation, and operations for companies to strategically utilize art
Proposal and implementation of international brand strategy, including support for artists entering into the global market

Planning and operating options for corporate VIPs maximizing art related individuals, information, and facilities around media.

Planning and implementing corporate social responsible activities such as lifelong education, art education for children, and support for artists

Art & business seminars as a corporate strategy for business professionals
For the Individual: Informational media conveying the diverse enjoyment of art
Publishing an online magazine providing reviews by foreign journalists and journalists from different disciplines, as well as art news from around the world

A school offering introductory courses including artwork as interior decoration, art as an investment, and art as a learning tool
Gatherings for art collectors to take in the latest information from overseas and education on hands-on artwork preservation
Structure and Outlook for New Company
We will be entering into a business partnership with amana inc., which has 10 years of experience in the art media business, and acquiring its expertise. In addition to this, Makoto Uesaka, who until now has been a supervising executive officer, will assume the position of President and manage the business.

 For corporations, we will develop consulting services for the use of art in business by utilizing existing personal connections and our network of investor companies. We will also develop seminars for both corporate and individual customers that would cover ways of understanding art from a diverse  perspective.

We will enter into an agreement with one of the world's leading art media companies (currently in negotiations), and we plan to connect the world's art market with the Japanese art market to eliminate information discrepancies and expand the art market in Japan.

In order to increase this process, we aim to expand the consortium by encouraging participation from companies with similar goal.
Investor Company Thoughts
Warehouse TERRADA
"In order to further develop the Japanese art industry going forward, we believe that we need to create a worldview in which art should be abundant through public awareness campaigns aimed at disseminating information about art to a wider audience and utilizing art in different sectors.
We believe that MAGUS will allow us to fulfill this dream and help us continue to support the art industry." (Kohei Terada, CEO, Warehouse TERRADA)
MITSUBISHI ESTATE Co., Ltd.
"We have been working to create innovation through urban development, and we have incorporated art into cities and offices for many years. Art is not only educational, it can also liberate people from preconceptions and encourage critical thinking, as well as promoting communication and awareness among workers, allowing us to embrace diverse values. We hope that, through investment, we can continue to incorporate art into urban development, other developments, and customer relations to build an all inclusive society." (General Manager of Collaborative Partner Development Office, MITSUBISHI ESTATE Co., Ltd.)
TSI HOLDINGS CO., LTD.
"As consumer values shift from object-focused to idea-focused, art and culture are becoming more and more influential, even in the fashion business. We plan to share our expertise with respect to sustainable added value that art provides between our group companies and use it in our new fashion proposition. We will work together to create a company that can contribute to society as Japan's first art platform." (Business Strategy Office, TSI HOLDINGS CO., LTD.)
TOKYU CORPORATION
"Through cultural activities such as Bunkamura and TOKYU THEATRE Orb, we have been able to create a vibrant city by communicating the charms of culture and art from around the world. In a modern society where customer needs and lifestyles are growing more diverse, art plays an essential part in the role of enriching life. Through MAGUS initiatives, we aim to create social value through art and create a city that enchants the world, filled with health and wealth of both mind and body. (Mie Kanai, Executive Officer, TOKYU CORPORATION)
Message from Representative
"What Japan needs now is to act with the passion of an artist. In addition to lifestyle initiatives and the creation of an art economy, we believe this also has the potential to raise awareness of Japan, which is on an ever declining trend internationally. By 2025, it will be prevalent to hear people in city cafes saying "I'm going to treat myself to some art," and art displayed in corporate meeting rooms will be common. That's what we're aiming for. For all the companies involved, investing during this time period was a huge decision. I am beginning to think that this business is itself a work of art." (Makoto Uesaka)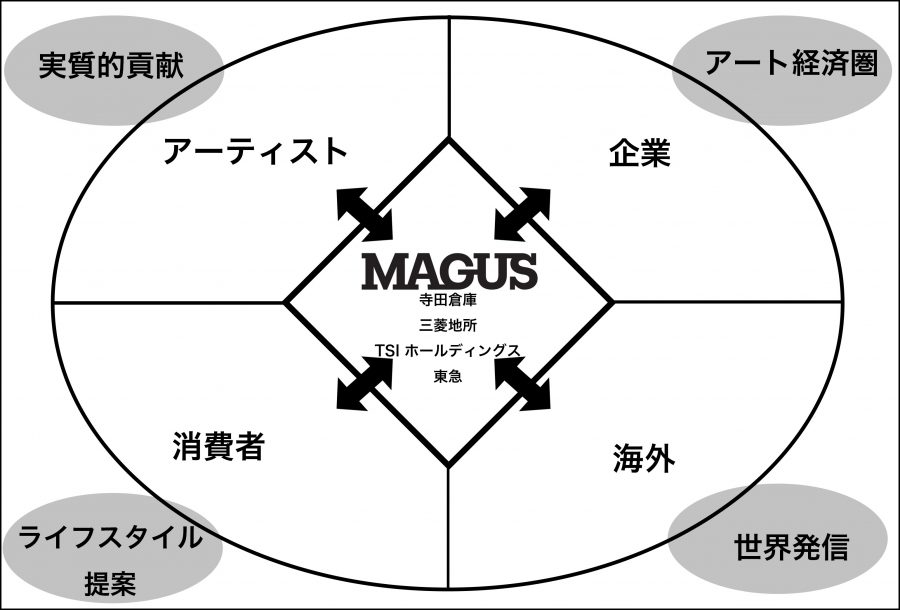 *written in Japanese
[About MAGUS]
Company Name: MAGUS Co.
Representative: Makoto Uesaka
Capital: 216 million yen (including capital reserve)
Capital Composition: Warehouse TERRADA, MITSUBISHI ESTATE Co., Ltd., TSI HOLDINGS CO., LTD., TOKYU CORPORATION, and Makoto Uesaka
Address: 2-1-3 Higashi-Shinagawa, Shinagawa-ku, Tokyo
Established: March 8th, 2021
URL: http://magus-corp.jp

[For inquiries about MUGUS Co.]
MAGUS Co.: magusinfo@magus-corp.jp