Warehouse TERRADA's PIGMENT TOKYO Offers Art Supplies in Collaboration with Aman Tokyo's Accommodation Plan
"Room with a View-A Collaboration with PIGMENT TOKYO"
"PIGMENT TOKYO" an art supplies lab operated by Warehouse TERRADA has put together an exclusive painting kit as part of "Room with a View - A Collaboration with PIGMENT TOKYO," an accommodation plan by Aman Tokyo.
Warehouse TERRADA's PIGMENT TOKYO is a research institution that specializes in "color and expression" produced by its original inhouse colorants and adhesive vehicles for mixing paints, calligraphy brushes and paint brushes – It is also a multidisciplinary creative institution with an art academy, museum and art supply store.
Since its inception in 2015, they exclusively provided the finest art supply from all eras and countries. And in addition to their work of handing down knowledge of cultural art supply to future generations, they have also functioned as an atelier that offers technological support and planning proposals to both overseas and domestic companies.
"Since it is so difficult to see family and friends in these unprecedented times, we wanted to offer people some hope suggesting sending messages to loved ones using an original painting kit. Spending some time feeling the joys of putting together picture letters." This concept for an accommodation plan proposed by Aman Tokyo struck a chord with PIGMENT TOKYO, and led us to put together this unique painting kit exclusive for this plan. A color ink stick called "Saiboku" is a traditional Japanese art material. We selected 3 colors based on the three primary colors, and guests can create a variety of colors by mixing them together in a palette called an "umezara." Then, using a "Gokuhinsakuyo" paint brush, the colors can be used to freely paint onto a postcard sized piece of Japanese bamboo paper, or to color in a sketch with a landscape from Aman Tokyo. Guests can enjoy the warm, natural lighting as it fills the wide open room, and view a array of inspiring landscapes, such as sunset and evening, the Tokyo night sky, and vibrant mountains stretching far into the clear morning sky, as they put together letters in this peaceful, contemplative atmosphere, thinking about their dear ones. For more details regarding the accommodation plan and the art materials, please see the following.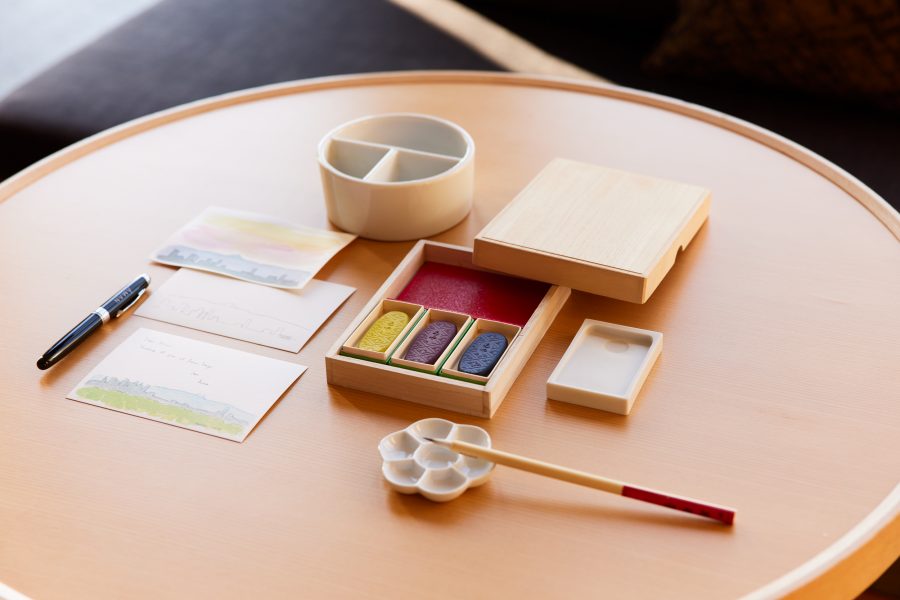 Title: "Room with a View-A Collaboration with PIGMENT TOKYO"
Reservation available: from January 29th, 2021 (Fri) until September 30th (Thu)
* Updated on April 27th: The term was extended as written above.
Price: from 100,000 yen for one-night stay par two persons par room (before tax and service charge)
Online reservation: https://www.aman.com/hotels/aman-tokyo/exclusives/room-view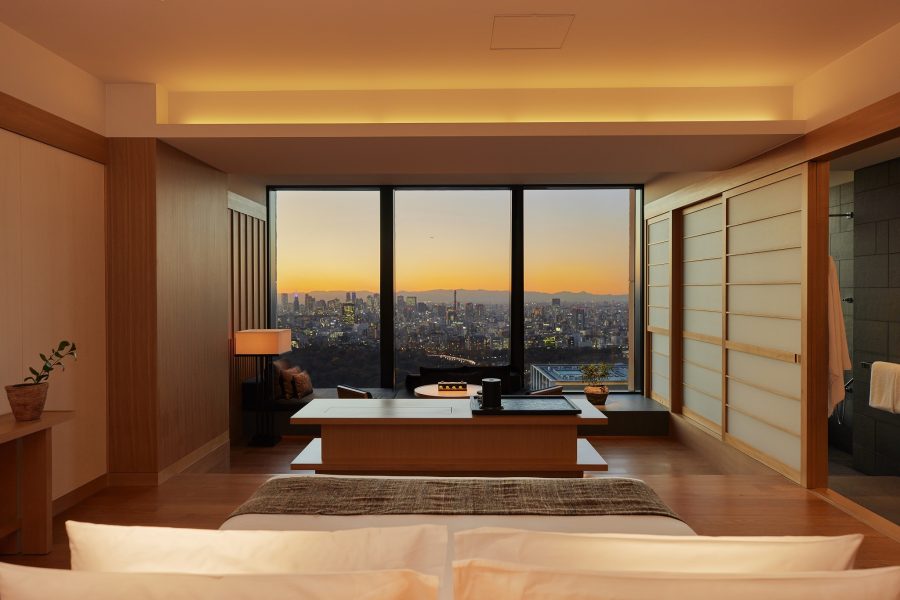 [Details of art materials] 
– 3 colors of Saiboku (Color Ink Sticks)
– 2 "GokuhinSakuyo" painting brushes
– 1 "Hakutouken" ink stone
– 1 "Umezara" palette
– 1 "Mizusaji" glue spoon
– 1 Brush Cleaning Round Pot
– postcard sized piece of Japanese bamboo paper
– sketch with a landscape from Aman Tokyo
* All items can be taken home.
* Please see an article regarding the details of these art materials on the PIGMENT TOKYO website (Japanese).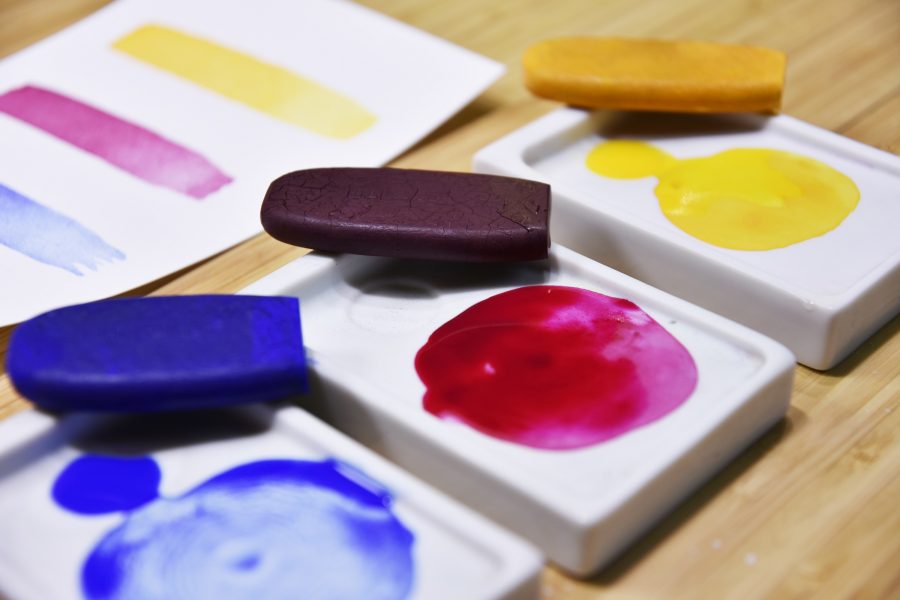 "Aman Tokyo" was opened on December 22nd, 2014, as Aman's first urban hotel. Located on the 33rd through 38th floor of high-rise complex Otemachi Tower, the topmost floors of the building, Aman Tokyo offers a spacious, tranquil environment that uses trees and rocks and Japanese paper to bring to life both Japan's traditional culture and its modern splendors. The hotel features 84 guest rooms, the high-ceilinged garden lounge, restaurant, a bar lounge with attached cigar lounge, a 1st floor cafe detached from the main building, a sushi restaurant with 8 counter seats, an 8 room treatment suite, 30 meter indoor pool, and an Aman Spa complete with a fitness gym, and the sights and natural beauty of Tokyo can be enjoyed in full from any one of them.
Name: Aman Tokyo
Representative: General Manager Tomoko Yagi
Address: The Otemachi Tower, 1-5-6 Otemachi, Chiyoda-ku, Tokyo 100-0004
Established: December 2014
U R L :https://www.aman.com/resorts/aman-tokyo
PIGMENT TOKYO is an art materials research lab connecting artistic expression both with tradition and the future, and develops the ingredients for that expression – colorants and adhesive vehicles for mixing paints, calligraphy brushes and paintbrushes – in a unique creativity center fusing an art academy and a museum with an art materials store. With pigments in 4,500 hues, aged ink sticks, vehicles for paint blending, and brushes, it offers materials of rare and surpassing quality created with techniques from all eras and locations. Also, PIGMENT TOKYO is taking a unique approach to research, education and popularize "art materials," their "usage," and furthermore "expression" produced by this harmony.
URL: https://pigment.tokyo/?set_language=ja&set_language=en
For Inquiries, Press Only

Contact: Warehouse TERRADA PR Group E-MAIL: pr@terrada.co.jp