Warehouse TERRADA to Hold "ART BATTLE KYOTO produced by TERRADA"
Live Painting Performance, Kyoto's No. 1 Artist Championship will be Broadcast Live and for Free
Warehouse TERRADA, as part of our business transmitting art and culture, will be holding "ART BATTLE Kyoto produced by TERRADA" in Kyoto on March 27th, 2021 (Sat).
Kyoto, which boasts a long and ancient history of art and culture, is home to the creative activities of artists always in pursuit of the truest expressions of their art, and the strong passions of the spectators and citizens who validate and support those activities. However, the spread of the COVID-19 pandemic has greatly affected the lives and activities of many of these artists. Warehouse TERRADA, through our art and culture transmitting facility located in Tennoz of Tokyo, aims to vitalize the art market, and create a space for exhibitions meant not just for the principal stakeholders in contemporary art, but also for an ever wider array of art fans. In pursuit of its corporate ethos to create culture, Warehouse TERRADA sought out applications for 12 up-and-coming artists with ties to Kyoto to participate in the ART BATTLE, a popular event held by WHAT CAFE (a gallery cafe meant to support the artists of the future), at the Ace Hotel Kyoto in the city of Kyoto. The participating artists will create an improvisational piece of art in a set amount of time decided on the day of the event, competing against each other based on the quality of their work and their live performance, and a vote by everyone in the venue will decide the top live paint performance in Kyoto. The role of MC will be performed by nico, known as the navigator of J-WAVE, and the event will feature special guest Anna Iriyama, actress and member of AKB48, and the inimitable atmosphere of the event will be broadcast live, online and for free. Please see the following for details on the event.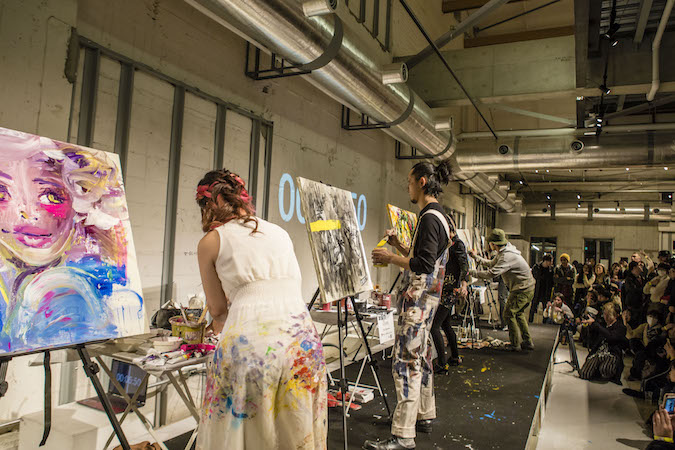 Title                : ART BATTLE Kyoto produced by TERRADA
Date                : March 27th, 2021 (Sat) Open at 1:30 PM (Planning)
Venue             : Ace Hotel Kyoto
Location        : 245-2 Kurumayacho, Nakagyo-ku, Kyoto-shi
Admission     : 2,000 yen * View on site for the first 80 people / Free for viewing online
Organizer      : Warehouse TERRADA
Co-organizer: ART BATTLE JAPAN
* This program is selected as "Kyoto Machiju Art Project."
[Public Call for Applications for Participating Artists]
Application Period  : From February 19th, 2021 (Fri) through February 28th, 2021 (Sun)
Application Method: Please apply at the following URL.
U R L                          : https://forms.gle/xnB48NHVDyxkBj3P7
A live painting competition originated in New York, which was held more than 2000 times in 50 cities around the world. Painters will create the best work within a limited time, and the audience votes for the winner. The painting process can be seen right in front of the audience, while the event space is filled with club music and MC lifts up the audience. This unprecedented new entertainment started in 2016 in Japan and became hugely popular.
WHAT CAFE is an art spot that regularly displays dozens of contemporary art pieces created by artists who represent the future of Japan's art industry. By replacing all art pieces at the end of each event, we offer many artists the opportunity to display and sell their artworks, and provide visitors the opportunity to regularly encounter new art. To give as many artists as possible the opportunity to establish themselves, we will also be calling for submissions via our official website, with selected submissions being exhibited. We also hold workshops and events related to the works displayed, and meet-and-greets for art fans. The cafe offers visitors a unique way to experience art with all five senses. And, of course, everyone can enjoy food and drinks sold in the cafe space while surrounded by art.
[Inquiry for the event and WHAT CAFE]