Warehouse TERRADA Opens Floating Hotel PETALS TOKYO
- A hotel consisting of four small multicolored boats in Tennoz, City of Canals -
Warehouse TERRADA opened Floating Hotel "PETALS TOKYO" in the canals of Tennoz on November 9th, 2020 (Mon).
Serving as Warehouse TERRADA's base of operations and located next to the historic Shinagawa-juku Station, which is itself a prominent site in Edo culture, the Tennoz area has attracted attention for its mix of the traditional and the modern. It is a unique location where one can experience contemporary art in a waterfront environment. Thanks in part to ease of access from Haneda Airport, visitors to Tennoz are increasing year after year.
PETALS TOKYO is a cottage-type hotel sitting on the waters of a Tennoz canal that was established to promote overnight stays by tourists to the area. Planting and the use of underground power lines in place of utility poles have helped to create a space that highlights Tennoz's distinctive relaxed pace and integration with nature, all while being located in the city just walking distance from Shinagawa Station. Guest room amenities are environmentally friendly, being derived from natural ingredients and renewable resources.
Through running facilities that promote art and culture such as art complexes, museums, an art materials lab and other spaces, Warehouse TERRADA has been working to turn Tennoz into a major center for the arts. We hope that this new hotel helps to draw visitors to Tennoz, city of canals. Please see the following for details.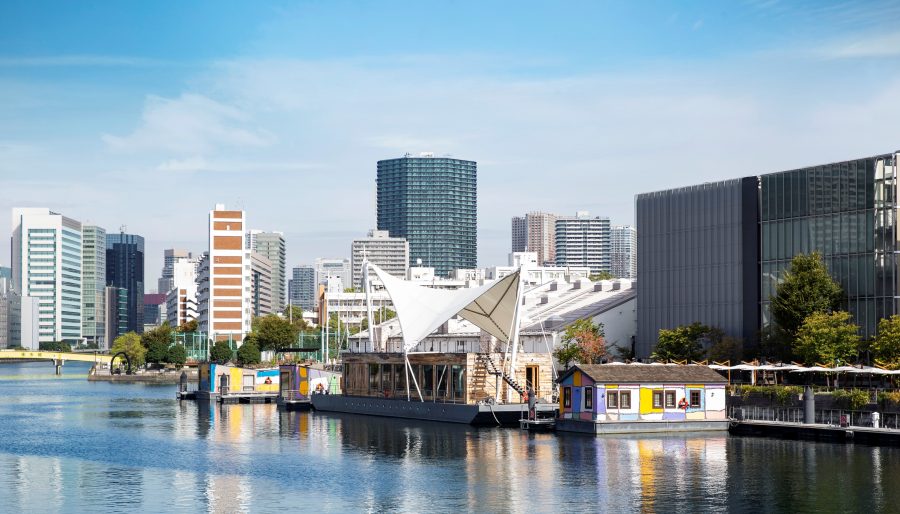 Tennoz Tokyo, a warehouse district that morphed into an art city. From here emerges PETALS TOKYO, a floating boat hotel. The complex consists of four multicolored hotel boats anchored beside T-LOTUS M, an event venue on the Tennoz Canal. The name PETALS TOKYO is inspired by the imagery of lotus petals floating on the water. Like the houseboats in Amsterdam, which was developed as a city of canals, each of the four boats has been meticulously handcrafted with its own individual design concept. The interiors are all unique and boast a premium feel. Located at a junction between the river and the sea, this canal connects Tokyo, one of the largest cities in Asia, to the world beyond the sea. A small distance from the hustle and bustle of the metropolis, there is no place like this where you can feel the natural waterfront atmosphere. Leave the daily life behind and liberate your five senses with your stay.
Name    : PETALS TOKYO
Address: T-LOTUS M 2-1 Higashi-Shinagawa, Shinagawa-ku, Tokyo 140-0002
Access   : 7-minute walk from Tokyo Waterfront Area Rapid Transit Rinkai Line "Tennoz Isle Station" B Exit
8-minute walk from Tokyo Monorail Haneda Airport Line "Tennoz Isle Station" Central Exit
Rooms  : Four rooms (two guests per room, 40–45 m2)
Room facilities and amenities: Bed, sofa, dining table, writing desk and chair, TV, Wi-Fi (free of charge), air conditioner, toilet, shower, towels, bathrobes, humidifier, hair dryer, coffee maker, safe deposit box, iron
Reservations accepted online or by phone
Official site: https://www.terrada.co.jp/en/service/space/petals-tokyo
Reservations: 050-5491-2681 (Hours: 10:00 AM – 5:00 PM)
*Guests of this hotel are eligible for discounts under the Go To Travel Campaign, the Japanese government's tourism promotion program.
Rate : 80,000+ yen per night for a room (breakfast included)
Requirements: Guests must be 15 years of age or older. No pets allowed.
Official Instagram: @petalstokyo
*This hotel has an irregular schedule. Check the reservations site to see when it is open.
*By offering guests the experience of staying overnight in small multipurpose boat-facilities, the hotel aims to generate further activity in the waterfront area.