Warehouse TERRADA to Open Collectors' Museum of Contemporary Art "WHAT"
- On December 12th, 2020, a new facility promoting art and culture will open its doors, unveiling the allure of stored artworks -
Warehouse TERRADA will open the WHAT collectors' museum of contemporary art on December 12th, 2020 (Sat).
Mainly focusing on the storage of artworks, we have been developing a wide range of art related businesses including artwork restoration, packing, transportation, and exhibitions to pass on the passion of artists and the intrinsic value of art to future generations. WHAT will open in Tennoz, promoting art and culture by aiming to make collectors' precious art properties that have been entrusted to us accessible to the public.
We have used our unique insight as a warehousing company to explore the concept of what an art facility should be. The result is WHAT — an art exhibition facility that allows members of the public to experience the artworks gathered in our warehouse by Japan's leading collectors based on their own exacting ideas of value. The name itself—WHAT (WAREHOUSE OF ART TERRADA)—reflects our unique concept of opening up the warehouse to offer the public a look at art that they would not ordinarily have the opportunity to see.
The museum exhibits works by artists active in the contemporary art scene side-by-side with the thoughts of the collectors, and also features a regularly changing lineup of works on display, setting itself apart from the permanent exhibitions seen in most art museums, thereby creating a new kind of art appreciation space that changes with every visit.
Note that the precursor to WHAT, ARCHI-DEPOT MUSEUM, which has been storing and exhibiting works related to architecture since 2016, has been renamed ARCHI-DEPOT Project and will continue to host exhibitions specializing in architecture in the same facility.
Through running facilities that promote art and culture, such as the art materials lab PIGMENT TOKYO and TERRADA ART COMPLEX, Japan's largest gallery complex, Warehouse TERRADA has been working to turn Tennoz into a major center for the arts. Our new WHAT facility has been selected as the first private-sector facility to be certified as a cultural tourism center by the Agency for Cultural Affairs and the Japan Tourism Agency, based on its concept which has been focusing on promoting knowledge and invigorating local cultural tourism. Going forward, our goal is to create exhibition spaces with WHAT at their core, that not only serve the main stakeholders of contemporary art such as artists, collectors and galleries, but that also open up contemporary artworks to broader fan bases.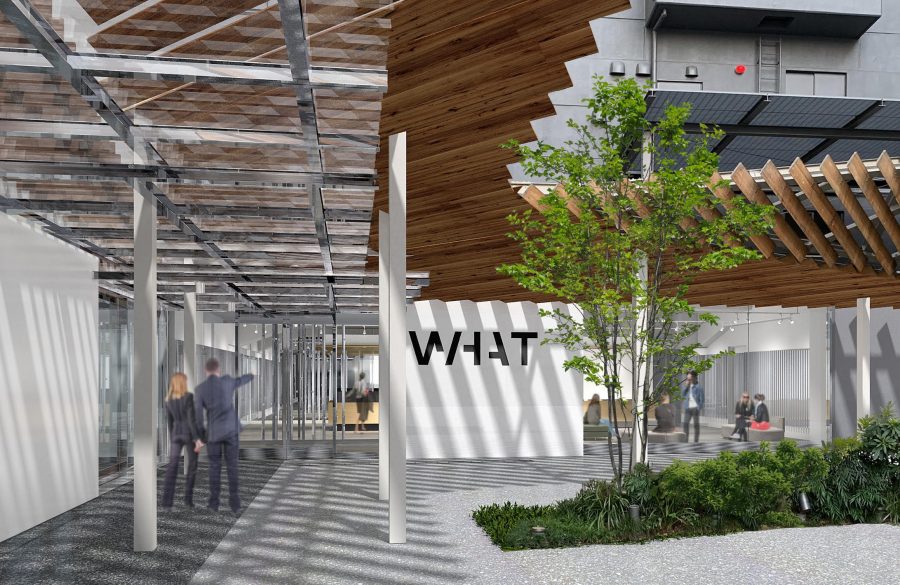 *This picture is an illustration
[Overview of the WHAT Facility]
Address: 2-6-10 Higashi-Shinagawa, Shinagawa-ku, Tokyo 140-0002
Access  :4-minute walk from Tokyo Waterfront Area Rapid Transit Rinkai Line "Tennoz Isle Station" B Exit
5-minute walk from Tokyo Monorail Haneda Airport Line "Tennoz Isle Station" Central Exit
Open Hours: 11:00 AM – 7:00 PM (Admission until 6:00 PM)
Admission   : Adults 1,200 yen / Students 700 yen / 18 and under 500 yen
(The tour of Architectural Model Warehouse (optional): 500 yen)
U     R     L  :https://what.warehouseofart.org/
S   N S  :Twitter @what_terrada /Instagram @what_terrada
[Private Viewing for Members of the Press]
On December 11th (Fri), the day before the opening, we will hold a press tour from 11:00 AM (limited to members from 50 organizations). For those who wish to stay after viewing the contemporary artworks and architectural models on display, (optional) light refreshments will be provided at the WHAT CAFE, an art café set up to support young artists. If you are interested, please inquire by sending your details to pr@terrada.co.jp.
Event date and time: December 11th, 2020 (Fri); 11:00 AM – 12:00 PM (press private viewing), 12:00 PM – 1:00 PM (optional light refreshments)
How to apply: Please email the following information to pr@terrada.co.jp: 1. Name, 2. Name of media organization, 3. Contact details (emergency contact information).
We will then contact you in due course. The deadline for applications is November 10th (Tue). However, please note that applications may close early if capacity has been reached. Thank you for your understanding.
[Concept Behind the Logo]
The logo reflects our unique concept of opening up the warehouse to offer the public a look at art that they would not ordinarily have the opportunity to see, and the logo's warehouse-like feel conveys a sense of anticipation and individuality. The four letters making up "WHAT" are partially obscured to convey a feeling of that which is hidden. The letters are depicted in a neutral style, stripped of all embellishments, to convey the idea that art is to be enjoyed with an open mind and without preconceptions.