Warehouse TERRADA to Open TERRADA ART COMPLEX II
- Japan's largest gallery complex in Tennoz, Tokyo in September 2020 -
Warehouse TERRADA is pleased to announce the opening of TERRADA ART COMPLEX II in Tennoz, Tokyo in September 2020 as part of our business to spread art and culture.
Mainly focusing on art storage, we have been developing a wide range of art related businesses including artwork restoration, transportation, exhibitions as well as organizing art facilities and supporting young artists. Also, in recent years, we have been committed in the development of the area of Tennoz, our home and launched museums, an art materials lab and a conservation laboratory to make Tennoz as a global premier city of art.
In this new art facility, TERRADA ART COMPLEX II, 10 galleries will open by spring 2021. Additionally, there will be a cafe and a garden as a place of recreation for art lovers visiting Tennoz. Moreover, together with 8 galleries in TERRADA ART COMPLEX (opened in September, 2016), adjoined to TERRADA ART COMPLEX II, this facility will house the largest number of galleries in Japan. Further details of the galleries and the facility will be announced at a later date.
At the opening, "artTNZ produced by AFT with APCA" an art fair by The Art Tokyo Association will be held at TERRADA ART COMPLEX II from September 17th (Thu) through 21st (Mon). Please see the following for details.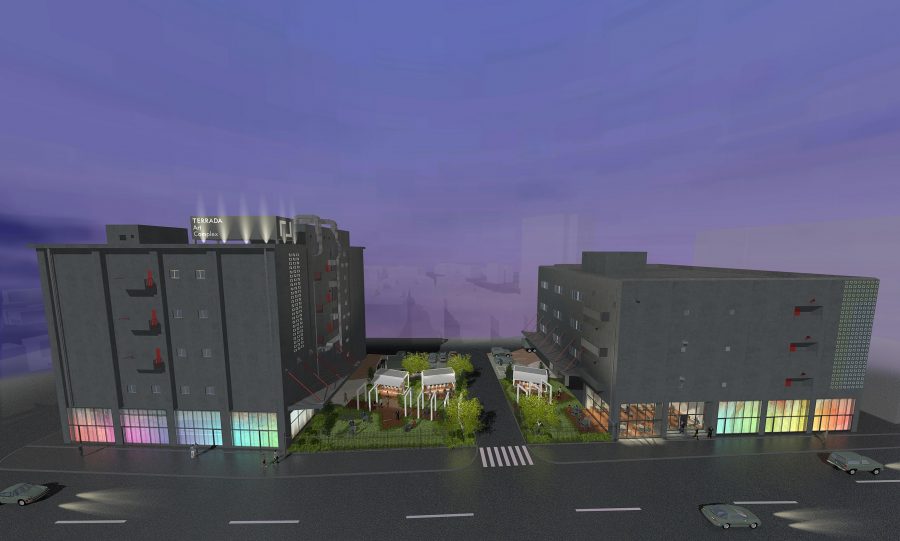 [About TERRADA ART COMPLEX]
URL: https://terrada-art-complex.com/
Location:
(TERRADA ART COMPLEX) 1-33-10 Higashi-Shinagawa, Shinagawa-ku, Tokyo
(TERRADA ART COMPLEX II) 1-32-8 Higashi-Shinagawa, Shinagawa-ku, Tokyo
11-minute walk from Tokyo Monorail Haneda Airport Line "Tennoz Isle Station" Central Exit
8-minute walk from Tokyo Waterfront Area Rapid Transit Rinkai Line "Tennoz Isle Station" B Exit
[Overview of artTNZ produced by AFT with APCA]
Project: Exhibition and sale of artworks by commercial galleries in Tennoz
Dates: September 17th (Thu) – September 21st (Mon), 2020
Venue: TERRADA ART COMPLEX II (1-32-8 Higashi-Shinagawa, Shinagawa-ku, Tokyo)
Organizer: Art Tokyo Association
Special sponsor: Warehouse TERRADA
Contact: Art Tokyo Association
Iikuradai bldg. 4F, 1-9-12 Azabudai, Minato-ku, Tokyo 106-0041 Japan
TEL : +81-(0)3-5797-7912 FAX : +81-(0)3-5797-7913
URL: https://art-tokyo.jp/ E-mail : info@artfairtokyo.com
* Concurrent event: World Art Tokyo -SatelliteS- (organizer: Art Tokyo Association)