ARCHI-DEPOT MUSEUM's Special Exhibition "The Classic Hotels – Evolving tradition and beyond -"
Dates: February 8th, 2020 (Sat) - May 31st, 2020 (Sun)
ARCHI-DEPOT MUSEUM by Warehouse TERRADA will have a special exhibition "The Classic Hotels - Evolving tradition and beyond -" from February 8th, 2020 (Sat) until May 31st, 2020 (Sun).
In recent years, there has been a boom in hotel construction expecting many tourists from abroad to Japan in 2020. In contrast, there are hotels which emerged more than a 100 years ago with the development of modern industry in the Meiji Era. They are still in use with over a 100 years of tradition and are called Classic Hotels. They held significance as a place of gathering for diplomacy in Japan after a long period of isolation and have been adapting to changes throughout time by repurposing architectural functionality and varying cultural roles. They have also strongly influenced the traditional Japanese hotel styles and hot spring resort hotels which have an established history.
This exhibition will feature 12 classic hotels which are a representation of the origin of Japanese hotels. It will trace their long rich history and focus on the "stories" underlying each architecture. Classic hotels have continued to exist up until today thanks to strong will and mindset of the founders and people involved with these hotels. In order to pass on the legacy of these classic hotels which are based on many years of expertise, architectural blueprints, photographs, videos, documentation, graphics will be offered to visitors to experience them from different facets.
Please see the website (https://archi-depot.com/en/exhibition/classic-hotel) for details of the exhibition and related events.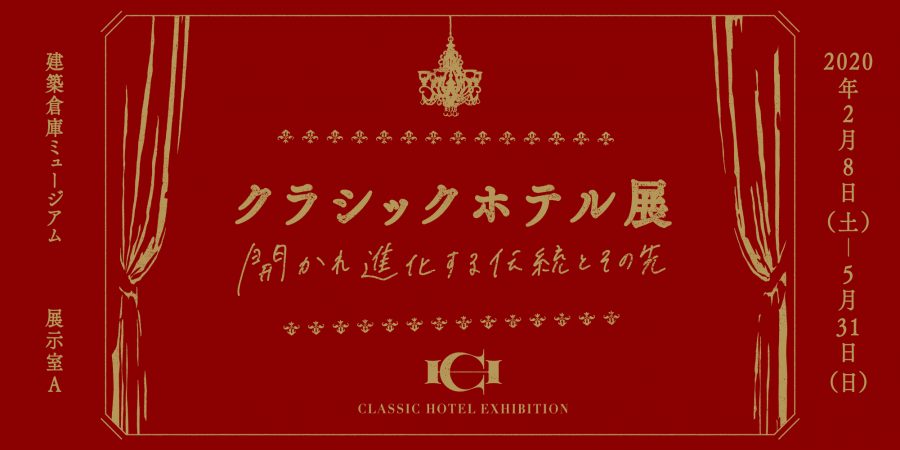 [Overview of the Exhibition]
Title: The Classic Hotels – Evolving tradition and beyond –
Dates: February 8th, 2020 (Sat) – May 31st, 2020 (Sun)
Venue: ARCHI-DEPOT MUSEUM – Room A (2-6-10 Higashi-Shinagawa, Shinagawa-ku, Tokyo 140-0002)
Open Hours: Tuesday – Sunday, 11:00 AM – 7:00 PM (Admission until 6:00 PM), closed on Mondays
(but open when Monday is a public holiday, then closed the following Tuesday)
Admission: Adults 3,100 yen / Students 2,000 yen / 18 and under 1,000 yen
* Including the admission for the exhibition Room B
* Ticket: Online ticket system
* Free admission for visitors with a physical disability certificate and one of their carers
* Presentation of your school identification card indicating your age or a disability certificate will be required on admission.
* Admission of the tour of Architectural Model Warehouse is included.
Organizer: Warehouse TERRADA ARCHI-DEPOT MUSEUM
Special Support: Fumihiko Sunamoto
Organizing Support: Kohei Fukino, Takahito Kawaguchi, Ayaka Shimizu, Aya Kawachi,
Supporting Hotels: Nikko Kanaya Hotel, Fujiya Hotel*, Mampei Hotel, Nara Hotel, The Tokyo Station Hotel, The Hotel New Grand, GAMAGORI CLASSIC HOTEL, RIHGA Royal Hotel Osaka, Unzen Kanko Hotel, Hilltop Hotel, Kyoto Hotel Okura, GakushiKaikan (*added on December 25th)
Curatorial Support: Takashi Imazato / Shinichi Sawano / Gamagorishi Museum
U R L:https://archi-depot.com/exhibition/classic-hotel
1. The 12 classic hotels representing Japan will participate in the exhibition that feature their history over a 100 years and to the future
Focusing on 12 classic hotels which have histories from 1870 (the era of opening up to the world after a long period of isolation) and still have been continuing to evolve up until today, the history of classic hotels in Japan and their future will be presented with valuable documentations such as architectural blueprints and photographs.
2. An emphasis on the close connection between the founders and hotel architectures
Classic hotels strongly reflect the spirit of the founder all throughout the architecture. The exhibited audio, videos, photographs and actual furniture will demonstrate how the architects projected the founders' thoughts into the architectural space, and the bond between them.
3. Video interviews with Takashi Imazato and other architects presented specifically for this exhibition
Including Takashi Imazato who was engaged in hotel design under an architect, Isoya Yoshida, video interviews with architects responsible at the time of completion will be released for this exhibition.
4. A chair in a bar based on the idea of Bernard Leach, and other various furniture composing the atmosphere beyond time
Bernard Leach, a ceramist has a strong connection with Japan such as Japanese folklore movement. One of the chairs installed in the bar which was built based on his ideas will be on display especially for this exhibition.
5. New photographs to highlight the appeal of classic hotels
New photographs will be prepared especially for this exhibition. They will bring a breath of the classic hotels which are exceedingly active over a 100 years, and exhibit new discovery of the classic hotels.
6. Experience hotel fragrance
From March 20th (Fri), 2020 to 22nd (Sun), the actual fragrance introduced into Rihga Royal Hotel by an artist Kan Izumi will scent the exhibition room.

Left) Hilltop Hotel, Right) RIHGA Royal Hotel Osaka
* All events will be held at ARCHI-DEPOT MUSEUM Room A
– Special seminar on The Classic Hotels
Date: February 23rd (Sun) 3:00 PM – 4:00 PM
Speaker: Fumihiko Sunamoto (Professor of Kobe Womens University)
– Keep the memory of a place with fragrance
Date: March 21st (Sat) 3:00 PM – 4:00 PM
Speaker: Kan Izumi (Artist)
Born in 1991 in Tokyo, Izumi is an artist who has been engaged in the creation with fragrances. Based on "revitalization of the senses" as his creative concept, his artworks of "Time" create changes to people's physical senses. After his career of producing various spaces including five-star hotels with fragrance, he continues to release art installation combining fragrance and sound.
– Guided tour
Date: Thursdays from February 13th, 2020 – May 28th 3:00 PM – 3:45 PM
An organizer of this exhibition will be the guide for the tour.

Left) Nikko Kanaya Hotel, Right) Mampei Hotel

Left) The Tokyo Station Hotel, Right) The Hotel New Grand

Left) Nara Hotel, Right) GAMAGORI CLASSIC HOTEL
[About ARCHI-DEPOT]
ARCHI-DEPOT is a project aiming to raise the value of architectural models and architectural culture through its services.
– ARCHI-DEPOT MUSEUM
https://archi-depot.com/en/
An exhibition facility in Japan that specializes in architectural models. There are two types of exhibition spaces, and the exhibitions are presented under the particular concept on a temporary basis. The exhibits range from studies to complete models created by Japanese and foreign architects and architectural firms who are active in both Japan and overseas. ARCHI-DEPOT MUSEUM offers new experiences and encounters with architectural models as a new style of "museum where you can learn, enjoy, and be moved."
– ARCHI-DEPOT ONLINE
https://online.archi-depot.com/
The world's first online service offering storage functions in addition to viewing features and the ability to create portfolios of architectural models for the purpose of introducing the culture of architectural models and up-and-coming architects to the world.
[Tour of Architectural Model Warehouse]
ARCHI-DEPOT MUSEUM's architectural model storage was renewed in May 2019.
It is only open to visitors of the museum for a limited time.
– Application required on the day (First-come, first-served basis)
– Please refer to the website for the time schedule
U R L : https://archi-depot.com/exhibition/backroom-visiting
For Inquiries about the exhibition and ARCHI-DEPOT MUSEUM

ARCHI-DEPOT MUSEUM
E-MAIL: info.archi-depot@terrada.co.jp
About Warehouse TERRADA

Company Name: Warehouse TERRADA
Representative: President & CEO, Kohei Terada
Address: 2-6-10 Higashi-Shinagawa, Shinagawa-ku, Tokyo 140-0002, Japan
Foundation: October 1950
URL: https://www.terrada.co.jp/en/
Contact: Warehouse TERRADA PR Group E-MAIL: pr@terrada.co.jp