ARCHI-DEPOT MUSEUM's Special Exhibition "Steven Holl: Making Architecture
Dates: November 8th, 2019 (Fri) - January 18th, 2020 (Sat)
ARCHI-DEPOT MUSEUM by Warehouse TERRADA will hold a special exhibition "Steven Holl: Making Architecture" from November 8th, 2019 (Fri) until January 18th, 2020 (Sat). This exhibition will focus on his recent works, and will travel to Japan after Seoul, Beijing, Nanjing and Shanghai, commencing in New York in 2018.
Steven Holl, one of the most influential architects in the USA, at 72 is still working proactively in New York and Beijing where his offices are located, and there are numerous projects in progress globally. His source of design ideas are generated from drawing in watercolors. He sketches in watercolors every morning, and the number of watercolor painting on his favorite 5"x 7" sketchbook (About 12.7 x 18.8cm) has surpassed more than 30,000. His designs based on his watercolor paintings are integrated into a 3D modeling software, then the models are created, and taken back to the initial sketches and the process repeated to come to a final design. By fully utilizing both primitive approaches and cutting edge digital technologies, and carefully considering the designs, Holl's masterpieces with his distinct style has been developed.
In this exhibition, focusing on his recent 17 projects including 6 new additions since the previous exhibition in Shanghai, more than 100 drawings, study and presentation models, working drawings, and videos and other items of a total of 150 works will be on display for the first time in Japan. Visitors will be able to witness the making process of how Holl creates models and drawings by repeating this process and ultimately transforming his ideas into reality. As described in the title, for Making Architecture, Holl's simple and principle method, as well as his pursuit for a creative philosophy will be on display. In addition to this, on November 12th (Tue) during the exhibition, Steven Holl himself will be having a talk at Meiji University Academy Hall.
Please see the website (https://archi-depot.com/exhibition/) for details of the exhibition and the event.

Steven Holl, Abstraction for the Institute for Contemporary Art, Virginia Commonwealth University
[Overview of the Exhibition]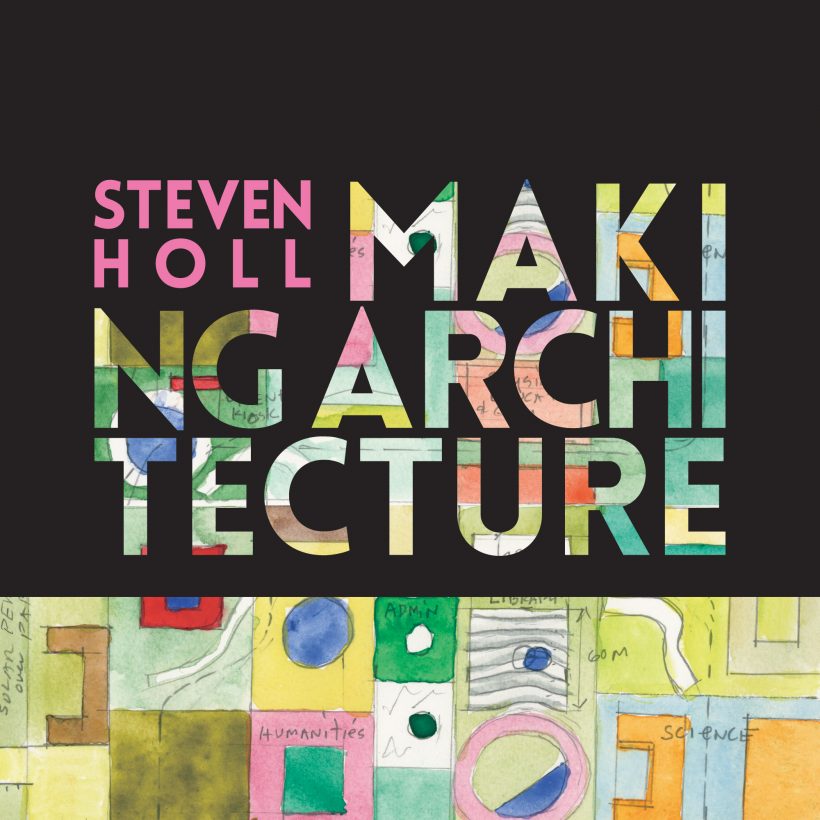 Title: Steven Holl: Making Architecture
Dates: November 8th, 2019 (Fri) – January 18th, 2020 (Sat)
Venue: ARCHI-DEPOT MUSEUM – Room A and B (2-6-10 Higashi-Shinagawa, Shinagawa-ku, Tokyo 140-0002)
Open Hours: Tuesday – Sunday, 11:00 AM – 7:00 PM (Admission until 6:00 PM), Closed on Mondays (but open when Monday is a public holiday, then closed the following Tuesday)
Admission: Adults 3,100 yen / Students 2,000 yen / 18 and under 1,000 yen
* Ticket: Online ticket system
* Free admission for visitors with a physical disability certificate and one of their carers
* Presentation of your school identification card indicating your age or a physical disability certificate will be required on admission.
* Admission of the tour of Architectural Model Warehouse is included.
Organizer: Warehouse TERRADA ARCHI-DEPOT MUSEUM
Cooperation: Department of Architecture, School of Science and Technology in Meiji University
Curatorial Support & Graphic Design : litaartisan LLC.
U R L : https://archi-depot.com/exhibition/steven-holl_in-tokyo
– World renowned architect, Steven Holl's exhibition in Japan for the first time in 13 years
– It comprehensively shows the making process that Holl implements to complete his architectural works.
– An opportunity to see the exhibits in Japan, which will be stored in his foundation
– Around 100 pieces highly selected from his 30,000 watercolor paintings which he has drawn in the morning
– Intricate architectural models, each of which were prepared during various design processes.
– Videos including commentaries by Steven Holl himself

Left)Steven Holl, Yin Yang Right)Steven Holl, 'Malawi site' study for Lilongwe

Left)Steven Holl, Notes of Colored Glass 01/21/2012 Right)Steven Holl, Space Merged with Natural Phenomena
[About Steven Holl, Architect]
Born in Washington, USA in 1947 (Currently 72). Awards: AIA Gold Medal (2012),  Praemium Imperiale Award (2014) and others. Prominent works: Kiasma – Museum of Contemporary Art in Helsinki, Finland (1998), Simmons Hall – MIT (Student dormitory) (2002), Linked Hybrid ゙(2009) and more.
In Japan, this is the first exhibition and talk event since the solo exhibition at GALLERY MA (2006), a group exhibition at GA Gallery (2008), and Praemium Imperiale Award  (2014). His works in Japan: Nexus World in Fukuoka (1991) and Makuhari Baytown Patios 11-bangai in Chiba (1996). Teaching at Columbia University since 1981. Currently has offices in New York and Beijing, and his own foundation, Steven Myron Holl Foundation in New York.

Left)Steven Holl Architects, Exploration of IN Right)Steven Holl Architects, Qingdao

Left)Steven Holl Architects, Sectional Presentation Model
right)Scene from the Exhibition in New York (at Samuel Dorsky Museum of Art, Photo by Bob Wagner)
[About ARCHI-DEPOT]
ARCHI-DEPOT is a project aiming to raise the value of architectural models and architectural culture through its services.
–  ARCHI-DEPOT MUSEUM 
https://archi-depot.com/en/
An exhibition facility in Japan that specializes in architectural models. There are two types of exhibition spaces, and the exhibitions are presented under the particular concept on a temporary basis. The exhibits range from studies to complete models created by Japanese and foreign architects and architectural firms who are active in both Japan and overseas. ARCHI-DEPOT MUSEUM offers new experiences and encounters with architectural models as a new style of "museum where you can learn, enjoy, and be moved."
–  ARCHI-DEPOT ONLINE 
https://online.archi-depot.com/
The world's first online service offering storage functions in addition to viewing features and the ability to create portfolios of architectural models for the purpose of introducing the culture of architectural models and up-and-coming architects to the world.
[Tour of Architectural Model Warehouse]
ARCHI-DEPOT MUSEUM's architectural model storage was renewed in May 2019.
It is only open to visitors of the museum for a limited time.
– Application required on the day (First-come, first-served basis)
– Please refer to the website for the time schedule
U R L:https://archi-depot.com/exhibition/backroom-visiting
For Inquiries about the exhibition and ARCHI-DEPOT MUSEUM

ARCHI-DEPOT MUSEUM
E-MAIL: info.archi-depot@terrada.co.jp
About Warehouse TERRADA

Company Name: Warehouse TERRADA
Representative: President & CEO, Kohei Terada
Address: 2-6-10 Higashi-Shinagawa, Shinagawa-ku, Tokyo 140-0002, Japan
Foundation: October 1950
URL: http://www.terrada.co.jp/
Contact: Warehouse TERRADA PR Group E-MAIL: pr@terrada.co.jp