ARCHI-DEPOT MUSEUM and PIGMENT TOKYO Operated Warehouse TERRADA to Present Workshops Helpful for Children's Summer Project Works
- Offering unique experiences and raising sensitivity -
Warehouse TERRADA will present workshops by ARCHI-DEPOT MUSEUM and an art materials lab PIGMENT TOKYO for children's summer project work.
ARCHI-DEPOT MUSEUM and PIGMENT TOKYO are always focusing on spreading culture from Tennoz, based on our philosophy of cultural creation. As part of our activities, Warehouse TERRADA has been organizing talk events by famous people, and workshops to actually experience creativity. This time, we will present workshops for children who will lead the next generation, aiming to provide opportunities to raise their sensitivities. As the first of this series, we will offer classes to make a dome-shaped architecture model at ARCHI-DEPOT MUSEUM, which can also assist in learning about disaster prevention, and to make a color wheel, learning three primary colors enjoyably at PIGMENT TOKYO. In addition, we will continue to organize workshops for children from these two facilities.
ARCHI-DEPOT MUSEUM and PIGMENT TOKYO will make various efforts, focusing on spreading culture. Please see the following for details of each workshop.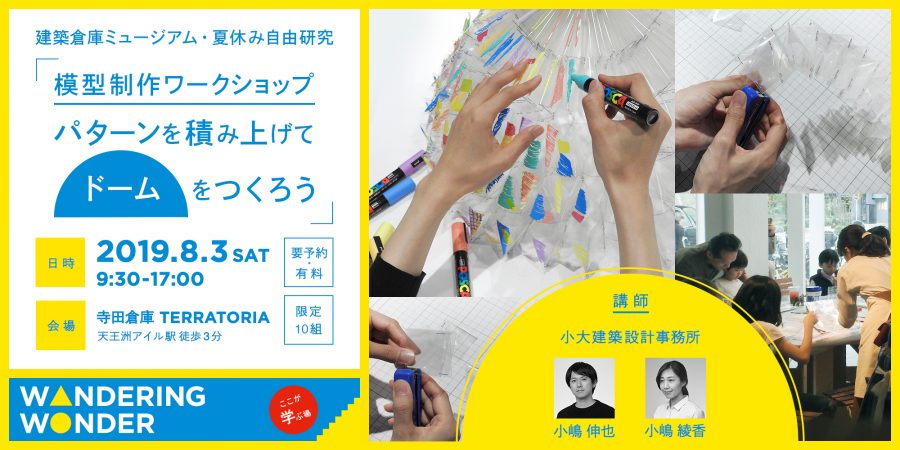 [Overview of ARCHI-DEPOT MUSEUM workshop]
Title: Model making workshop – Let's pile up patterned items and make a dome-
Date: August 3rd (Sat) 9:30 AM – 5:00 PM
* Please arrive at the venue by 9:20 AM. The venue will be open until 6:00 PM.
Venue: Warehouse TERRADA TERRATORIA (2-6-10 Higashi-Shinagawa, Shinagawa-ku, Tokyo 140-0002)
Fee: 8,000 yen (including the cost of materials and a packing box)
* Also including an admission of ARCHI-DEPOT MUSEUM for 18 year-old and under (Valid until October 14th, 2019)
Application: Online ticket system (Please note that the entry may be terminated when the event reaches the capacity.)
https://www.e-tix.jp/archi-depot/event.html#190803
Eligibility: Students from fourth grade elementary school to third grade junior high school (max capacity 10 people)
* Student who are interested in craft-making and can use the stapler safely.
* Students from fourth to six grade need to be accompanied by a carer.
* An admission of ARCHI-DEPOT MUSEUM for the accompanying person is not included.
Product: a dome-shaped architecture model (Base size 59 x 44 cm, the dome diameter is about 40 cm, and the height 25 cm)
What to bring: lunch, a stapler. colored staples (if you would like to make the seam of your dome colorful), oil-based paint markers, stickers (if you would like to color your dome)
Instructor: Shinya Kojima and Ayaka Kojima / kooo architects
[Overview of PIGMENT TOKYO workshop]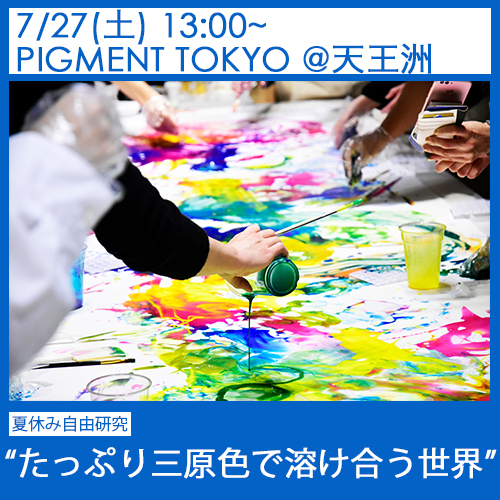 Title: Discover the wonderful power of colors with the color wheel
Date: July 27th, 2019 (Sat) 1:00 PM – 3:00 PM
Venue: PIGMENT TOKYO (2-5-5 Higashi Shinagawa Shinagawa-ku, Tokyo TERRADA Harbor One Building 1F)
– Admission 6,000 yen (including material fee)
Application: Online ticket system (Please note that the entry may be terminated when the event reaches the capacity.)
https://pigment.tokyo/workshop/detail?id=182
Eligibility: Elementary school students (Capacity: 10 persons)
* Children of of preschool age can join this workshop with their parent.
* Though PIGMENT TOKYO will prepare apron, please wear casual outfit which can be stained.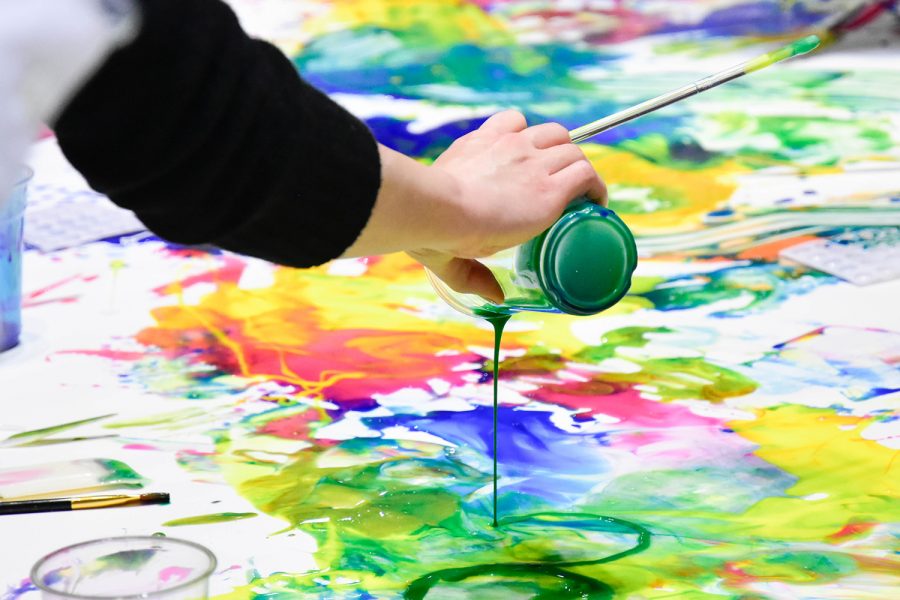 [About ARCHI-DEPOT]
ARCHI-DEPOT is a project aiming to raise the value of architectural models and architectural culture through its services.
– ARCHI-DEPOT MUSEUM https://archi-depot.com/en/
An exhibition facility in Japan that specializes in architectural models. There are two types of exhibition spaces, and the exhibitions are presented under a particular concept on a temporary basis. The exhibits range from studies to complete models created by Japanese and foreign architects and architectural firms who are active in both Japan and overseas. ARCHI-DEPOT MUSEUM offers new experiences and encounters with architectural models as a new style of "museum where you can learn, enjoy, and be moved."
– ARCHI-DEPOT ONLINE https://online.archi-depot.com/
The world's first online service offering storage functions in addition to viewing features and the ability to create portfolios of architectural models for the purpose of introducing the culture of architectural models and up-and-coming architects to the world.
[About PIGMENT TOKYO] 
PIGMENT TOKYO is an art materials research lab connecting artistic expression both with tradition and the future, and develops the ingredients for that expression – colorants and adhesive vehicles for mixing paints, calligraphy brushes and paintbrushes – in a unique creative center fusing an art academy and museum with an art materials store. With pigments in 4500 hues, 200 varieties of aged ink sticks, 50 different vehicles for paint blending, it offers materials of rare and surpassing quality created with techniques from all eras and places. Also, PIGMENT is taking unique approaches to research, education and popularize "art materials," their "usage," and furthermore "expression" produced by this harmony.
About Warehouse TERRADA

Company Name: Warehouse TERRADA
Representative: President & CEO, Kohei Terada
Address: 2-6-10 Higashi-Shinagawa, Shinagawa-ku, Tokyo 140-0002, Japan
Foundation: October 1950
URL: https://www.terrada.co.jp/en/
Contact: Warehouse TERRADA PR Group E-MAIL: pr@terrada.co.jp