ARCHI-DEPOT MUSEUM's Special Exhibition "Structural Engineers – the sense of structural design -"
World first exhibition of structural designs and idea process of 50 structural engineers in Japan
Dates: July 20th, 2019 (Sat) - October 14th, 2019(Mon)
ARCHI-DEPOT MUSEUM operated by Warehouse TERRADA will hold a special exhibition "Structural Engineers - the sense of structural design -" from July 20th (Sat) to October 14th, 2019(Mon).
Do you know for every famous Japanese architecture, there is always a collaboration between the architects and structural engineers? In order to materialize each architect's conception and vision, structural engineers would frequently discuss with the architect and carefully examine the structural system. Then they apply their techniques to each and every detail of design, plan, equipment, construction, and work on the structural design.
An examples of the structural engineers are Yoshikatsu Tsuboi who collaborated with architect Kenzo Tange for Yoyogi National Gymnasium (1964), Mutsuro Sasaki who has worked with Arata Isozaki, Toyo Ito, and Kazuyo Sejima, Katsuo Nakata for the early works by Kengo Kuma, and Yasuhiro Kaneda who has been engaged in the structural design for Tsuyoshi Tane… Many structural engineers have been contributing greatly to some of the most famous architectures in Japan.
This exhibition will focus on the minds and designs of 50 structural engineers including the above, and exhibit 60 works and more than 70 items of architectural models and drawings based on "structural systems" and "structural design." On display will also be sketches and videos showing the thought process. The diverse styles of aesthetics and sensitivity built by structural engineers in Japan since the 1950s can be seen and discovered throughout the entire space, which will be an unprecedented exhibition.
There will also be a feature of gallery talks and other various events portraying the close relationship between structural engineers and architects. The details of the exhibition and related events will be updated on the exhibition website (https://archi-depot.com/en/exhibition/structural_design).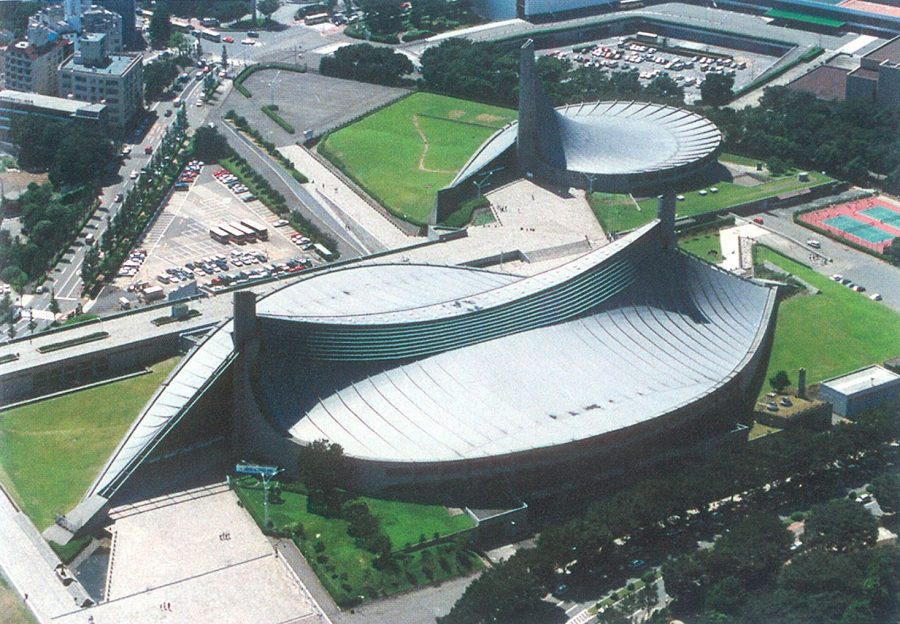 Yoyogi National Gymnasium (c) Masao Saito
[Overview of the Exhibition]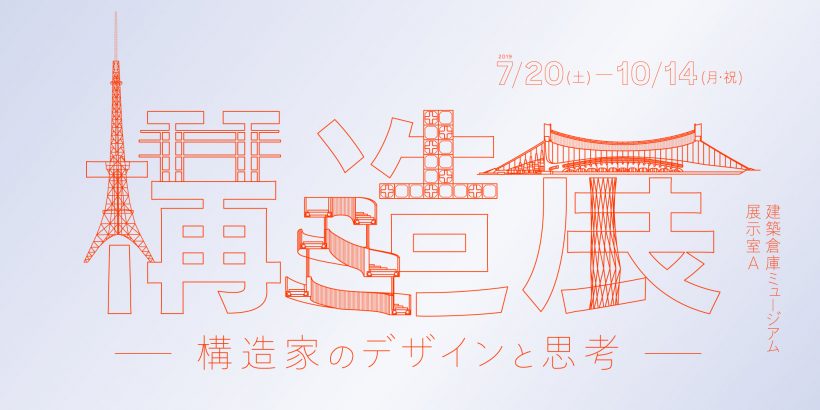 Title: Structural Engineers – the sense of structural design –
Dates: July 20th (Sat) – October 14th, 2019 (Sun)
Venue: ARCHI-DEPOT MUSEUM – Room A (2-6-10 Higashi-Shinagawa, Shinagawa-ku, Tokyo 140-0002)
Open Hours: Tuesday – Sunday, 11:00 AM – 7:00 PM (Admission until 6:00 PM), Closed on Mondays (but open when Monday is a public holiday, then closed the following Tuesday)
Admission: Adults 3,000 yen / Students 2,000 yen / 18 and under 1,000 yen
* Including the admission for the exhibition Room B "Wandering Wonder––Expanding the space of learning" (until October 14th)
* Ticket: Online ticket system (Please refer to the website (https://archi-depot.com/en/) for details.)
* Free admission for visitors with a physical disability certificate and one of their carers
* Presentation of your school identification card indicating your age or a physical disability certificate will be required on admission.
Organizer: Warehouse TERRADA ARCHI-DEPOT MUSEUM
Special Cooperation: Masao Saito
Cooperation: Motoshi Inukai, Yosuke Tsuga, Kenji Seo, Toshimi Inukai, Kohei Fukino, Takahito Kawaguch, Yutaro Ishida
URL: https://archi-depot.com/en/exhibition/structural_design

Left) Yasuhiro Kaneda Todoroki House in Valley (c) yasuhirokaneda STRUCTURE
Right) Ryozo Umezawa Structural model of IRONHOUSE (c) Kenji Seo


Left) Mutsuro Sasaki Axonometric drawing of sendai mediatheque (c) SASAKI STRUCTURAL CONSULTANTS
Right) Hirofumi Ohno Structural model (c) Kenji Seo
1. World first exhibition approaching closely to the thoughts and designs of 50 Japanese structural engineers
This exhibition approaches closely to the thoughts and designs of 50 structural engineers in Japan from 1950 to today for the first time in the world.
2. Interview videos with structural engineers which are newly recorded especially for this exhibition
More than 20 of today's top structural engineers reveal their own thought, philosophy, and aesthetics in the videos.
Masao Saito, Katsuo Nakatanaka, Ryozo Umezawa, Mutsuro Sasaki, Toyohiko Yamabe, Yoshiharu Kanebako, JO KO, Masahiro Inayama, Shuji Tada, Mitsuhiro Kaneda, Yasutaka Konishi, Kenji Nawa, Eisuke Mitsuda, Noriaki Yamada, Hirofumi Ohno, Moribe Yasushi, Hideyuki Hagiuda, Yasuhiro Kaneda, and others
3. Structural models of Japanese famous architectures during the period since 1950 (Showa, Heisei and Reiwa era in Japan)
More than 50 models of famous architectures representing Japan including Yoyogi National Gymnasium for Tokyo Olympic Games, Grand Roof and Fuji Group Pavilion (for Expo '70), Nagano Olympic Memorial Arena will be brought together.
4. Exhibit of sketches and models showing the idea process of structural engineers
Sketches and models will be displayed to show the philosophy of each structural engineer and the process of thoughts to a project achievement.
5. Experience of structural systems and structural designs through various exhibits
A video of structural analysis will be shown on the wall of the museum, and actual mockups and other items will be displayed to see structural systems and details.

Left) Mamoru Kawaguchi / Expo'70 Fuji Group Pavilion (c) KAWAGUCHI & ENGINEERS
Right) Yoshikatsu Tsuboi / Mamoru Kawaguchi Grand Roof for Expo'70 (c) Koji Kamiya
"Wandering Wonder––Expanding the space of learning" at  the exhibition Room B
* The exhibition term is extended because of its popularity.
Dates: – until October 14th (Mon)
Related events will be presented during summer vacation. The details will be updated on the website (https://archi-depot.com/en/).
[Tour of Architectural Model Warehouse]
ARCHI-DEPOT MUSEUM's architectural model storage was renewed in May 2019.
It is only open to visitors of the museum for a limited time.
– Application required on the day (First-come, first-served basis)
– Please ask the time schedule at the museum on the day of your visit.
[About ARCHI-DEPOT]
ARCHI-DEPOT is a project aiming to raise the value of architectural models and architectural culture through its services.
– ARCHI-DEPOT MUSEUM https://archi-depot.com/en/
An exhibition facility in Japan that specializes in architectural models. There are two types of exhibition spaces, and the exhibitions are presented under the particular concept on a temporary basis. The exhibits range from studies to complete models created by Japanese and foreign architects and architectural firms who are active in both Japan and overseas. ARCHI-DEPOT MUSEUM offers new experiences and encounters with architectural models as a new style of "museum where you can learn, enjoy, and be moved."
– ARCHI-DEPOT ONLINE https://online.archi-depot.com/
The world's first online service offering storage functions in addition to viewing features and the ability to create portfolios of architectural models for the purpose of introducing the culture of architectural models and up-and-coming architects to the world.
For Inquiries about the exhibition and ARCHI-DEPOT MUSEUM

ARCHI-DEPOT MUSEUM
E-MAIL: info.archi-depot@terrada.co.jp
About Warehouse TERRADA

Company Name: Warehouse TERRADA
Representative: President & CEO, Kohei Terada
Address: 2-6-10 Higashi-Shinagawa, Shinagawa-ku, Tokyo 140-0002, Japan
Foundation: October 1950
URL: https://www.terrada.co.jp/en/
Contact: Warehouse TERRADA PR Group E-MAIL: pr@terrada.co.jp