ARCHI-DEPOT MUSEUM to Hold Special Event Associated with "Wandering Wonder-Expanding the space of learning" Featuring Kageki Shimoda
- Date: June 22nd, 2019 (Sat) / Venue: Warehouse TERRADA TERRATORIA -
ARCHI-DEPOT MUSEUM operated by Warehouse TERRADA will hold a special event on June 22nd (Sat) in relation to the current exhibition "Wandering Wonder-Expanding the space of learning." The event will have Kageki Shimoda, writer as a guest and focus on how to enjoy polishing your creativity and personality.
Recent years, along with various needs for learning, the architectures related to education have been diversified. In this exhibition, 21 pieces of models for 18 facilities by 14 architects will be exhibited, selecting places to learn and grow, and also focusing on the architectural models which are stored in our storage facility.
In association with this exhibition, a talk event will be presented, inviting Kageki Shimoda writer as a guest. By organizing storytelling events at libraries, nurseries, schools, elderly facilities throughout Japan, and providing life counseling sessions via SNS, he has been creating places to learn in various fields.
At the event he will talk about how to improve creativities and seek shapes of personalities for the new era from his broad perspective. Please see the following for details of the event.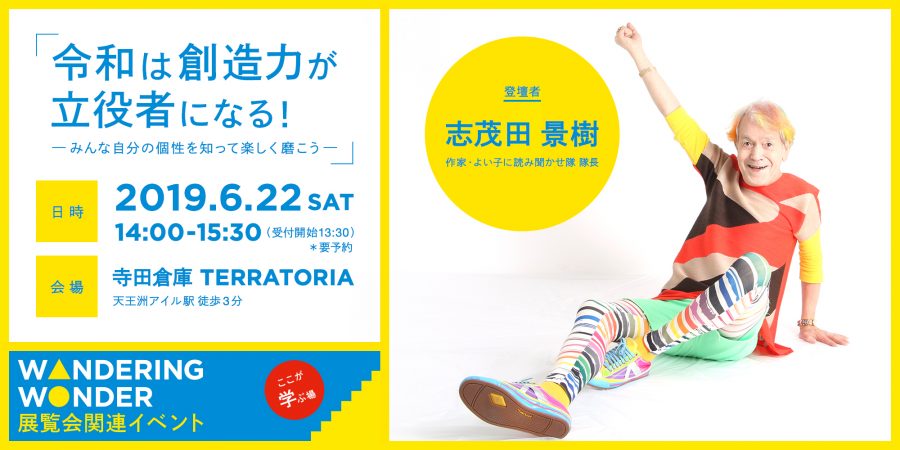 [Overview of the Exhibition]
Title: Wandering Wonder––Expanding the space of learning ––
Dates: May 22nd (Wed) – September 1st, 2019 (Sun)
(Closed from July 1st (Tue) to July 19th (Fri))
*GAUDI QUEST will be concurrently held at Room A until June 30th (Sun).
https://archi-depot.com/en/exhibition/gaudi-quest
Venue: ARCHI-DEPOT MUSEUM – Room B (2-6-10 Higashi-Shinagawa, Shinagawa-ku, Tokyo 140-0002)
Open Hours: Tuesday – Sunday, 11:00 AM – 7:00 PM (Admission until 6:00 PM), Closed on Mondays (but open when Monday is a public holiday, then closed the following Tuesday)
Admission: Adults 3,000 yen / Students 2,000 yen / 18 and under 1,000 yen
* Including the admission for the exhibition Room A
* Ticket: Online ticket system (Please refer to the website (https://archi-depot.com/en/) for details.)
* Free admission for visitors with a physical disability certificate and one of their carers
* Presentation of your school identification card indicating your age or a physical disability certificate will be required on admission.
Organizer: ARCHI-DEPOT MUSEUM
Cooperation: Takumi Iwasawa / AUFTAKT, Kohei Fukino / Atmos
Other related events
1. Lectures
Date: June 23rd (Sun) 2:00 PM – 4:30 PM (Open at 1:30 PM)
Venue: Warehouse TERRADA TERRATORIA
(1) Kazuko Akamatsu (Coelacanth and Associates) "Activities in local communities and learning facilities"
(2) Takehiko Higa  (kw+hg architects) "Why is Musashino Place rounded?"
Ticket: Available at https://www.e-tix.jp/archi-depot/event.html#1906023
2. Small talk with an event organizing staff to enjoy the exhibition more
Date: Every Wednesday 6:00 PM – 6:30 PM until June 26th
Venue: ARCHI-DEPOT MUSEUM – Room B
* Please see the following website for details of each event.
https://archi-depot.com/en/exhibition-event
[Exhibiting Architect]
Riken Yamamoto & FIELDSHOP
KEN YOKOGAWA / ARCHITECT & ASSOCIATES INC
KENGO KUMA & ASSOCIATES
Shigeru Ban
Coelacanth and Associates
Dai Nagasaka Tohata Architects & Engineers Méga
AZUSA SEKKEI
Yasuko Kawaharada + Takehiko Higa / kw+hg architects
Shinya Satoh + Daisuke Furusawa + Kanenobu Baba + Yasutaka Kurokawa
blue studio
Yasutaka Yoshimura Architects
HARADA MASAHIRO + MAO MOUNT FUJI ARCHITECTS STUDIO
Osamu Nishida+Hirotaka Isshiki+Kuniyoshi Katsu+Osamu Iwasaki / ondesign
YAMAZAKI KENTARO DESIGN WORKSHOP Co.,Ltd.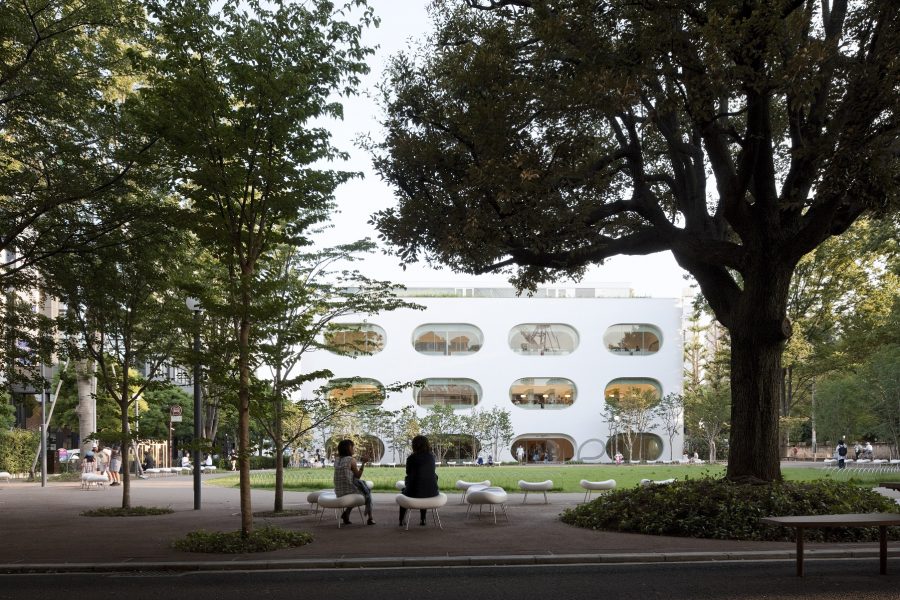 Musashino Place by Yasuko Kawaharada + Takehiko Higa / kw+hg architects (c) SHIMIZU KEN
[About ARCHI-DEPOT]
ARCHI-DEPOT is a project aiming to raise the value of architectural models and architectural culture.
– ARCHI-DEPOT MUSEUM  https://archi-depot.com/en/
An exhibition facility in Japan that specializes in architectural models. There are two types of exhibition spaces, and the exhibitions are presented under the particular concept on a temporary basis. The exhibits range from studies to complete models created by Japanese and foreign architects and architectural firms who are active in both Japan and overseas. ARCHI-DEPOT MUSEUM offers new experiences and encounters with architectural models as a new style of "museum where you can learn, enjoy, and be moved."
– ARCHI-DEPOT ONLINE  https://online.archi-depot.com/
The world's first online service offering storage functions in addition to viewing features and the ability to create portfolios of architectural models for the purpose of introducing the culture of architectural models and up-and-coming architects to the world.
For Inquiries about the exhibition and ARCHI-DEPOT MUSEUM

ARCHI-DEPOT MUSEUM
E-MAIL: info.archi-depot@terrada.co.jp
About Warehouse TERRADA

Company Name: Warehouse TERRADA
Representative: President & CEO, Kohei Terada
Address: 2-6-10 Higashi-Shinagawa, Shinagawa-ku, Tokyo 140-0002, Japan
Foundation: October 1950
URL: https://www.terrada.co.jp/en/
Contact: Warehouse TERRADA PR Group E-MAIL: pr@terrada.co.jp