ARCHI-DEPOT Museum's Special Exhibition "A gaze into architecture – Phases of Contemporary Photography and Architecture -"
Dates: August 4th (Sat.) - October 8th (Mon.)
ARCHI-DEPOT Museum operated by Warehouse TERRADA will hold a special exhibition "A gaze into architecture – Phases of Contemporary Photography and Architecture -" from August 4th (Sat.) to October 8th (Mon.), 2018.
Photography has been closely related to architecture since its birth in the 19th century, since the world first photograph taken by the inventor Joseph Nicéphore Niépce was a view from a window including a barn and a pigeon house. Especially in the 20th century's Modern Movement in architecture, many architects focused on photography, aiming to make their works recognized in society and promote the movement. What was emphasized is that photography is highly transparent as a recording medium, and even today, this has been inherited by architectural photography which is produced and widely consumed, based on architectural journalism. On the other hand, some photographers and contemporary artists express their interest from slightly different places.
This exhibition is based on the concept to indicate the ambiguous and complicated relationship between modern photographic expression and architecture. With architectural photographs by Becher School photographers such as Thomas Ruff and Candida Höfer, Hiroshi Sugimoto, Takashi Homma, and various others, six models of the architectural works that were the subjects of these photographs will also be exhibited. By understanding the architectural works from all angles through the models, the quality and features of each photographic expression will be enjoyed more deeply.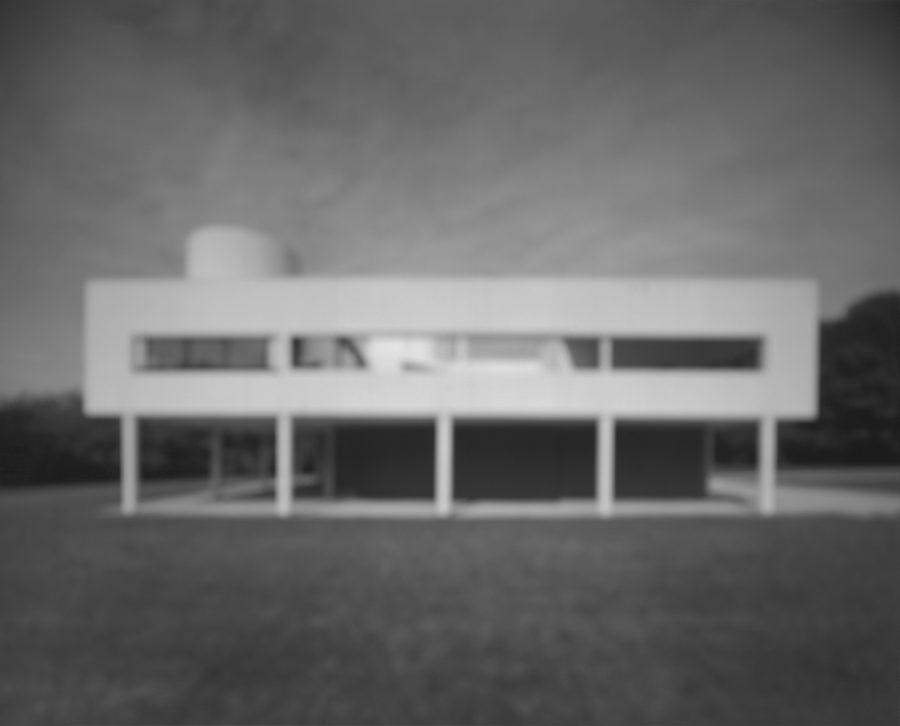 Hiroshi Sugimoto "Villa Savoye" (Architect: Le Corbusier) (c)Hiroshi Sugimoto / Courtesy of Gallery Koyanagi
Overview of the Exhibition
Title: A gaze into architecture -Phases of Contemporary Photography and ArchitectureDates:
August 4th (Sat.) – October 8th (Mon.), 2018
Venue: ARCHI-DEPOT Museum (2-6-10 Higashi-Shinagawa, Shinagawa-ku, Tokyo 140-0002)
Open Hours: Tuesday – Sunday, 11:00 AM – 7:00 PM (Admission until 6:00 PM), Closed on Monday (open when Monday
is a holiday, but closed the following Tuesday)
Admission: Adults 3,000 yen / Students 2,000 yen / 18 and under 1,000 yen
Organizer: ARCHI-DEPOT Museum
Curated by: Fumiko Suzuki
Exhibition Design: by: Atelier Tsuyoshi Tane Architects (Tsuyoshi Tane)
Curatorial Support: Art & Public Co., Ltd.
Sponsor: CASAMATTA / BIBI GRAETZ, SINWA KOUMUTEN Co., Ltd. design field laboratory, Sony Music Entertainment, and TOKYO STUDIO CO., LTD.,
Cooperation: Jun Aoki & Associates / IZU PHOTO MUSEUM / Obayashi Collection / Gallery Koyanagi / ShugoArts / TAISEI CORPORATION / Taka Ishii Gallery / TARO NASU / Museum of Architecture, The Koishikawa Annex, The University Museum, The University of Tokyo / Yuka Tsuruno Gallery / WAKO WORKS OF ART
Artist: Thomas Demand / Mario García Torres / Naoya Hatakeyama / Candida Höfer / Takashi Homma / Tomoki Imai / Luisa Lambri / Ryuji Miyamoto / Thomas Ruff / Hiroshi Sugimoto / Risaku Suzuki / Tomoko Yoneda / James Welling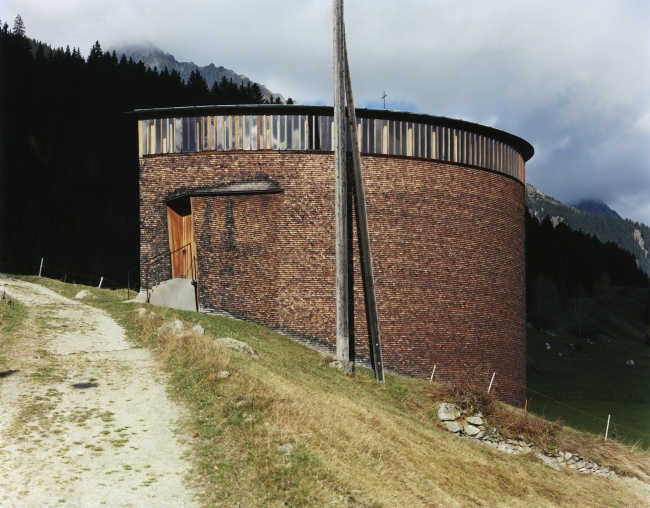 Tomoki Imai "Saint Benedict Chapel #03" (c)Tomoki Imai / Courtesy of TakaIshii Gallery Photography / Film
Highlights of the Exhibition
– 36 photographic works and one film by 13 photographers and contemporary artists who are currently active in Japan
and abroad
– As the subjects of the works, 13 famous buildings from Masterpieces of Modern Architecture such as "Villa Savoye" (Le Corbusier), "Vila Tugendhat" (Mies van der Rohe), "Casas das Canoas" (Oscar Niemeyer) to "Elbphilharmonie Hamburg," a late work by Herzog & de Meuron
– Six architectural models which are the subjects of the works in the exhibition
– Exhibition Design by Atelier Tsuyoshi Tane Architects, based on the exhibition concept
– About the artists
While the style of 13 artists in the exhibition is rich in variety, several types of trends can be seen. For example, some
photographers observe architecture with a personal view and try to treat it as a one-time experience in a specific time
and occasion. Photography records the outside world, and at the same time reflects the inner selves of the photographers.
Architecture is a spatial and temporal experience for them, and their impressions from the experience deeply affect their photographs. In extreme cases, some of the works reflect almost none of the features of objective recording generally seen in architectural photographs.
On the other hand, some photographers respect the features of transparency in photography for recording, and transform them to their own original style. This tendency can be found in many Becher School photographers who studied under Bernd and Hilla Becher of the Kunstakademie Düsseldorf. Among them, the works by Thomas Ruff and Candida Höfer will be introduced in this exhibition.
Other than the above, there are artists who interpret architecture conceptually. Even though they are not focusing on
architecture specifically when taking photographs, they regard it as the main subject of their works, or they capture the invisible thoughts of architects behind the buildings in the photographs. This style is freer and is put into practice in more diversity ways.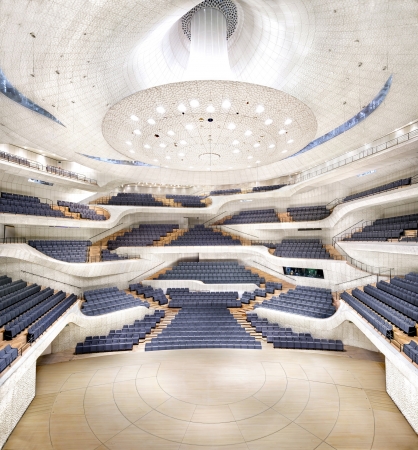 Candida Höfer "Elbphilharmonie Hamburg Herzog & de Meuron Hamburg II 2016"
(c)Candida Höfer, Köln / VG Bild-Kunst, Bonn Courtesy Yuka Tsuruno Gallery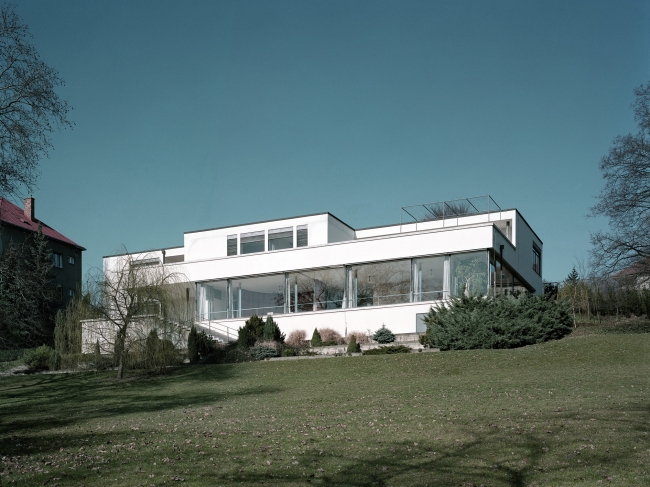 Thomas Ruff "h.t.b. 02" (c)Thomas Ruff / Courtesy of Gallery Koyanagi
[About ARCHI-DEPOT Museum]
Located in Tennoz, Tokyo, ARCHI-DEPOT Museum is the only exhibition facility in Japan that specializes in architectural models. It is not only a museum in the conventional sense for presenting architectural models to the general public, but also a new type of museum with the special function of preserving architectural models.
About Warehouse TERRADA

Company Name: Warehouse TERRADA
Representative: President & CEO, Kohei Terada
Address: 2-6-10 Higashi-Shinagawa, Shinagawa-ku, Tokyo 140-0002, Japan
Foundation: October 1950
URL: https://www.terrada.co.jp/en/
Contact: Warehouse TERRADA PR Group E-MAIL: pr@terrada.co.jp