Warehouse TERRADA Supports Kanze Noh Theater as Platinum Sponsor
Warehouse TERRADA will support Kanze Noh Theater, based in Ginza, Tokyo, as one of its Platinum Sponsors for one year from April 2018, continuing last year's sponsorship
Based in Tennoz, Warehouse TERRADA takes full advantage of our expertise in the use of space as we pursue technical improvements in storage and restoration. Those efforts have gained us a strong reputation in the field of storage technology for highly specialized products, including artwork, wine and media. In recent years, we have focused particularly on our art-related business, providing an active support for art and culture.
Kanze Noh Theater has a mission to pass "Noh" (a Japanese traditional performing art) on to the next generation and promote the charm of Noh from Japan to the world. Since Warehouse TERRADA understands the significance and importance of the theater's value, we decided to become one of its Platinum Sponsors.
Warehouse TERRADA will continue to support meaningful traditional artistic and cultural activities that should be passed down to the next generation, and spread throughout the world.
[Overview of Kanze Noh Theater]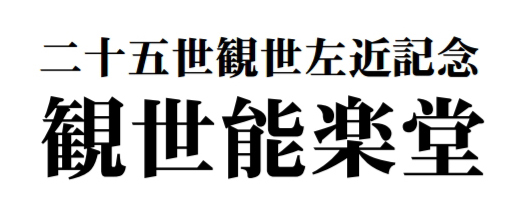 Address: GINZA SIX B3F, 6-10-1 Ginza, Chuo-ku, Tokyo 104-0061
Facility Detail: size: 1,629.91m2/capacity: 480 seats
The Kanze-Kai Association
Representative: Kiyokazu Kanze, Chairman (the 26th grand master of Kanze, the Kanze School)
Address: GINZA SIX B3F, 6-10-1 Ginza, Chuo-ku, Tokyo 104-0061
Established: February 1st, 1951
URL: http://www.kanze.net/